Raffle prizes to collect from the Village Show…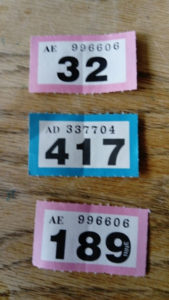 Ooops! – we've just found left over prizes from the village show raffle. If you still have tickets (and you haven't washed last Saturday's trousers!) please check – you could be the lucky winner of fig chutney, bag of smarties or a bottle of Seven Giraffes beer.
Here are the prize winning numbers…
Pink 32
Pink 189
Blue 417
If not collected they will be recycled into next village raffle. Contact Jo on 830685 or via the contact form.