The Minutes for the GMCC meeting in December 2021 can now be viewed on the GMCC page.
7th February

4th April
6th June
22nd August
3rd October
5th December
All the above are on the first Monday of the month with the exception of August which, as previous years, is later due to school summer holidays.
All meetings to be held at 7.30pm and, at this stage, all in Garvald Village Hall until Morham Hall is back in business. Lets hope that by our meeting in February we are able to all meet up rather than ZOOM !!!!
This information can also be found on the GMCC page.
Garvald Village Hall Committee
It was great to see so many Garvald village residents gather at the event to celebrate Christmas both outside and inside the village hall.
As you know the hall provides a wonderful communal resource for all of us and also for those beyond the village who can book it for special occasions.
The hall is managed and maintained by a committee of volunteers on behalf of the trustees. Currently there are six on the committee but there is scope for a few more. It would be great if others joined – new residents in the village are very welcome indeed. Meetings take place every two months with any necessary actions normally being relatively simple and not onerous.
If you are interested in joining the committee please get in touch with Gary McGregor via the enquiry form below
There will be a service in Garvald Church at 6 pm on Christmas Eve and a Watchnight service in Morham Church at 11.30 pm.
All your favourite carols – with a mask on!
Thanks to some very generous donations and extra soup money, the total amount raised for Edinburgh Royal ICU at the Garvald Christmas Social has risen to £1119.82. That's fabulous! Thanks to everyone.
Following the advice of the Scottish Government, it is with a heavy heart  that we have decided to cancel this year's Garvald Kids' Christmas Party.
Apologies for any disappointment this might cause.
A HUGE thank you to everyone who contributed to the Christmas Social Event on Sunday. We raised a massive £778.10 for Edinburgh Royal ICU and had a good bit of chat at the same time.
Thanks to the Community Council for funding the purchase of the gazebo (now available for anyone in the community to borrow for a small fee) and the lights. Admittedly the solar-powered lights are not very bright, but the rechargeable strip light is better.
Thanks to all the artists for their beautiful art, to Jimmie and Murray Thomson for installing the art-boards and to Niall and Sarah Donaldson for storing the art boards, and transporting them by forklift truck to the hall!
Thanks to Liz for making all that delicious soup and juggling trays of sausage rolls and mince pies in the kitchen. Thanks to Elaine and Norma for sterling work on the raffle – there may be a raffle prize making its way to you in the near future. Thanks to Anne and Phillip for creating a little taste of a continental Christmas with their mulled wine stall, and thanks to our fabulous young musicians and DJs ( and their roadies.)
So that's it for another year – this is the-one-who-was-running-around-like-a-headless-chicken signing off.
Happy Christmas!
Please see the agenda for the above meeting, to be held at 7.30pm in Garvald Village Hall, here: agenda061221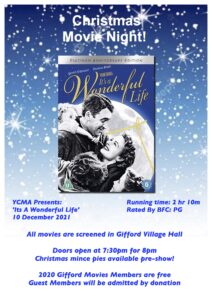 Sunday 19th December
3-5pm Garvald Village Hall
There will be a selection of crafts and games, a baby mat with toys etc for the littlest ones, snack and a visit from a very special someone.
*(Please remember to bring a small, wrapped, well labelled gift for each child you are bringing to the party, for Santa's sack).
If you would like to donate a small plate of sharing food to the snack, please contact Viki or Gemma (or use the contact form, below) and let us know what you are planning to bring so we can make sure we have a selection.