The agenda for next week's GMCC meeting, in Morham Village Hall, can be viewed here:
The Garvald Fun Day is on Saturday & we have lots of fun planned! The main event will be the race programme with the usual relay/egg & spoon/sack & 3-legged races for kids and/or adults. There will be small monetary rewards for 1st, 2nd & 3rd (sadly kids only). Then we'll have our usual whole village junior then senior tug-of-wars to finish off. We will also have a 12m x 15m Bouncy Castle and a 20ft Giant Slide for the event. Side attractions will be a bake sale, a Beat the Goalie stall and a Welly Toss stall. An ice cream van will also be there part of the time. The event will finish with the traditional Boat Race at 4.00pm

How can you help?
Most importantly – please come along! This event is for the whole village – not just kids. Please join us for a fun-filled afternoon – and visiting family/friends are always welcome.
You can start working on your boat for the famous Boat Race that finishes off the day. Anything goes for your design – but no battery/electricity powered crafts please – all natural here! Entries from both children and adults welcome.
Can you help our Bake Stall by providing something tasty for us to sell? Any baked goods would be very much appreciated.
Start limbering up for an afternoon of races: child & adult categories, so open to everyone. And start practising your welly-throwing & football skills for the Beat the Goalie & Welly Throwing Tournaments. Small monetary prizes available for races (kids only) – and a huge amount of glory for the winners of the Tournaments.
There's still time if you want to join our team of volunteers.  Please contact me on the form below if you want to help – or just let me know.
It's back!!!
Please put this date in your diary for our wonderful village Fun Day.  Lots of exciting events are planned as part of the afternoon and it would be great to see you there.  More information to follow….
If you would like to help with some of the events for the Fun Day please join me at the Garvald Inn on Sunday 31st July at 4.00pm for a quick catch-up.  If you can't make this time but do want to be involved then please drop me a message using the contact form, below:
Penny Short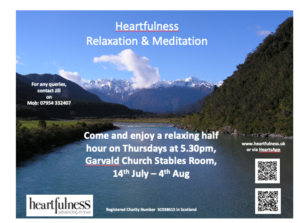 One month to go to the Show!  You can find the schedule on the village website here (also posted through your door):
Garvald Horticultural Society | Garvald.org.uk
We will be asking for donations of home baking and tombola prizes. Further details (and how to enter if you are new to this!) nearer the time. Meanwhile, keep watering!
The Minutes for the Garvald and Morham Community Council meeting which took place in June 2022 are now available to view on the GMCC page:
Hello. My family and I recently moved to Garvald with our 2 year old and would like to start a playgroup in the village hall. So far, we are thinking an informal, stay and play opportunity once a week for parents and caregivers of children aged 0-5 years would be a simple place to start from. Hopefully we can create a welcoming space in which to socialise and play together on a regular basis and attract families within the village and from the surrounding area.
To achieve this, we will need to form a group of people who can help organise the running of the playgroup.  If you are interested, please come along to Garvald Village Hall at 10:30am on Wednesday, 10th of August where we can gather and plan together. (If you can't make it then and would still like to be involved, you can get in touch via the contact form.) 
And if you are a parent or caregiver who would like to attend the playgroup once it is up and running, there will be an update very soon on the Garvald Community Page and on the noticeboards in the village. 
Looking forward to seeing you there! Natasha. 
Hello,

Just a notice to say a combine harvester will be making its way through Garvald tomorrow (Monday) morning.
Could we please ask for cars not to be parked on the Main Street so the combine itself can get passed.

Thank you
Harry from Nunraw