Category Archives:
Announcements
The Minutes for April's GMCC meeting are now available to view on the GMCC page: https://www.garvald.org.uk/gmcc/meetings/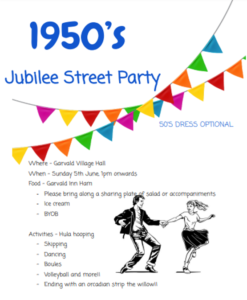 Ideally we'll be outside, hula-hooping in our best fifties fashion! Grateful thanks to the Community Council who are providing funds for this event.
It would be really helpful to get a rough idea of how many people are coming. Please tell Sarah Ramsey or Caroline McGregor or fill in the form below
On Friday 13th May there will be a showing of the Billy Wilder classic, "The Apartment", starring Jack Lemmon and Shirley MacLaine.
A romantic comedy for May AND there will be teas/coffees and cakes!
Doors open 7.30 pm
There will be a meeting of Garvald Village Hall Trust on Wednesday 11th May at 7.30pm
Everyone is very welcome to attend
It's a smaller gathering this time so join us at The Stables, Garvald (on the corner, on the left, before the church) at 7pm this Friday for a small gathering. Please bring a dish to share as well as your own crockery, cutlery and glasses – and something to drink!
Please note there is no oven in The Stables so please bring food ready to eat.
There will be no post office services in Garvald Village Hall, on Thursday 5th May, as the Hall will be the local polling station for the elections.
Please see the flyer, below, for free fun rugby skills sessions on Friday 22nd April for P5-7:
Please see the flyer, below, for free fun rugby skills sessions on Friday 22nd April for P5-7:
Let's use the Jubilee holiday weekend in June to celebrate nearly-getting-back-to-normal after the pandemic
The afternoon of Sunday 5th June – hopefully in the park – food, fun and a wee bit of dancing